The Secrets of Healthy Japanese Food
If you are fond of Japanese food, you know Shoyu, Miso, Mirin, Sake, Su, etc., but do you know they are all precious children of Koji?
Koji is an essential micro-organism which works as an agent to produce Japanese seasonings and has been supporting the health of Japanese over a thousand years. It is known Koji helps to strengthen our immunity and contributed much to the recognition of Japanese food as UNESCO intangible cultural heritage.
It is very easy for you to take Koji into your every day cooking and create delicious meals as Koji not only preserves, tenderises the ingredient but also enriches its flavor and taste. Tasty food without artificial additives, chemicals, even your hard work!
Our class teaches you cooking methods with or without Koji, but once you learn how to make use of Koji, it is yours forever. If you are a Vegetarian or Vegan, you will appreciate our cooking class even more.
Sample dishes (ingredients could vary depending on season.)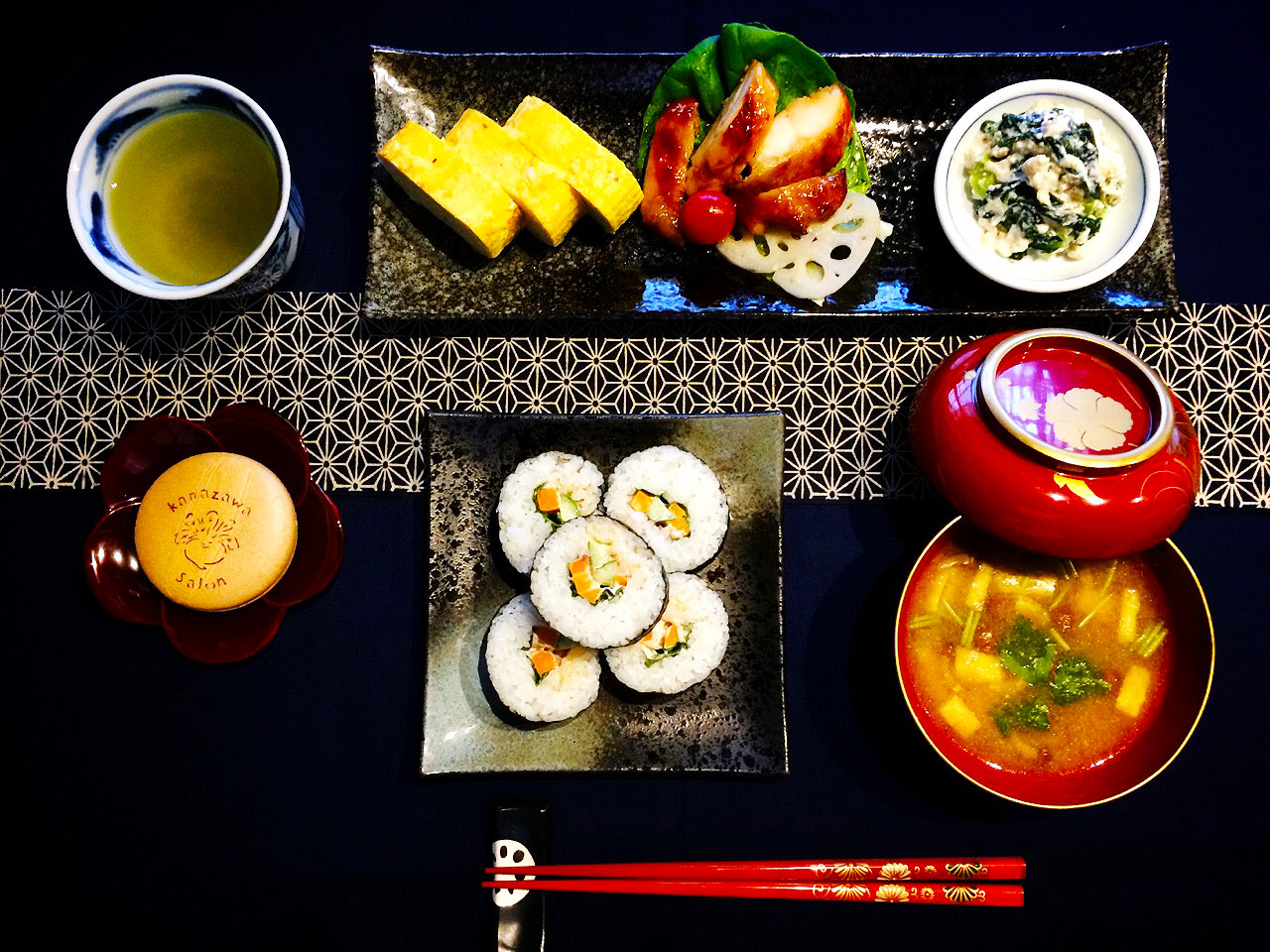 *Top selection of locally produced beverages are availbale with meal.
Cooking Course
3 hours (11am~ or 5pm~ or can be adjusted to your request)
30 minutes
* Welcome drinks
* Presentations about Sake and Koij
You will gain an incredible insight into Japanese culture and history as well as the knowledge of related visiting spots in Kanazawa and its surrounding area.
* Tenugui distribution
We will show you how to cover your head in a Japanese way.
90 minutes (including 15 minutes break)
* Dashimaki
Omelette in a Japanese style. You can create your favourite Dashimaki at home by adding your choice of ingredients such as herb, cheese, onion, tomato or ham, etc.
* Miso marinated Tofu dip (Arden's dip)
This delicious Tofu dip can be also used as mayonnaise.
* Maki Sushi / Temari Sushi
Once you learn, you can make your own Maki Sushi or Temari Sushi with your favourite ingredients back home, but in our studio we use Koji marinated fish and Sakekasu Tofu mayonnaise (Mel's mayo).
* Soup of the day
* Jibuni
The dish handed down for generations in Kanazawa area. It consists of slices of duck meat and local ingredients.
60 minutes
* Meal time
Dessert is served.
A socialising occasion as well as a good question time about Japan, Japanese food, Miso, Shoyu, etc.